Jurassic World: Dominion Dominates Fandom Wikis - The Loop
Play Sound
Before progressing any further, please note that this article contains SPOILERS regarding the franchise Baahubali.

Avanthika is one of the main protagonists of Baahubali movie series. She is a warrior of the local resistance tribe intended to save queen Devasena and the romantic interest of Mahendra and later, wife. She is the current queen of Mahishmati.
She is portrayed by Tamannaah.
History and Role
[
]
Baahubali: The Beginning

[

]
After carrying the Shivalinga to the waterfalls, Shivudu finds a mask which falls from the waterfalls. Driven out to find out the identity of the owner, Shivdu climbs the waterfall successfully.
On top of the waterfall, he discovers that the mask belongs to Avantika who is a warrior from a local resistance tribe, dedicated with the aim of overthrowing the tyrannical king of Mahishmati, Lord Bhallaladeva (Palvalathevan) and rescuing an important captive - Princess Devasena, who happens to be the sister of the resistance's chief, Jaya Varma. Shivu is instantly smitten with Avantika and secretly follows her, even managing to draw a tattoo on her hand (while she is sleeping). Avantika is later tasked with rescuing Devasena. She discovers about Shivu and attacks him, but Shivu overpowers her and returns her mask to her. Realizing that he had scaled the mountain just for her, she reciprocates his feelings.
Avanthika gets injured by the Mahishmathi soldiers when she left him to complete her mission and is saved by Shivdu. Overpowering them, Shivu pledges to rescue Devasena and departs.
Shivdu and Devasena are chased down by Prince Bhadra and Kattappa. When the trio were fighting aganist each other, Avantika and her compatriots arrive at the place and fought with the Mahishmathi soldiers who came for Devasena. When Shivudu was revealed as Mahendra Baahubali, Avantika along with her compatriotes knelt down to show their respect to him.
Baahubali: The Conclusion

[

]
Avantika accompanied Shivudu in the war against Bhallaladeva. With Kattappa's and Avantika's assistance, the army lays siege to Mahishmati. She accompanies Devasena in the cleansing ritual performed once in 26 years to save Mahishmati from the eyes of the evil.
Ending the cruel regime of Bhallaladeva, Baahubali becomes the new King of Mahishmati with Avantika as his queen, declaring peace and harmony.
Appearance
[
]
Avantika is an upright and strong person which can be seen in her body language. She has a dark skin tone. Shivudu describes her physical appearance as a girl with a sword in her hand, with her body covered with an armour, blood-shot eyes, and an an angry face.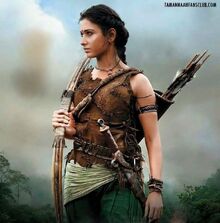 Personality
[
]
Avanthika is a skilled warrior and a fighter of the rebel group. As a guerrilla fighter, her life is devoted to a sole mission, saving Devasena from captivity in Mahishmati by Bhallaladeva.
She is rebellious, a fierce warrior who fights for what is just. She is strong and independent in her decisions and opinions. She is an avenging loyalist of princess Devasena, who is always on her guard, living the rough life in the forests, with weapons for company.
Avantika is completely action-oriented for who, duty comes first and is the most important thing, surpassing all other elements of life. She lives for a goal and her entire life is aimed at achieving it.
Relationships
[
]
Mahendra Baahubali falls in love with her and she later accepts him after she comes to know that he climbed the waterfall mountain just for her.
She had huge respect and loyalty towards Queen Devasena and was dedicated with the aim of rescuing her.
Gallery
[
]