Jurassic World: Dominion Dominates Fandom Wikis - The Loop
Play Sound
Before progressing any further, please note that this article contains SPOILERS regarding the franchise Baahubali.
Amarendra Baahubali is the main protagonist and namesake of the Baahubali franchise. He is named after |a character from Jain myth and stories. He is a prince of Mahishmati and son of king Vikramadeva, husband of Devasena, father of Mahendra, cousin/adoptive brother of Bhallaladeva, nephew/adoptive son of Sivagami. He is a noble, courageous, humble, and compassionate warrior who cares greatly about everyone around him and is popular among the kingdom. He has defended his kingdom from the forces of darkness time and again and is trained in academics and martial arts alongside his brother. In the Conclusion, he is ousted from the kingdom for killing Sethupati in the royal court and is framed for assassination by Bhalla and Bijjaladeva, leading to his close friend and uncle figure Kattappa being forced and positioned to execute him.
He portrayed by Prabhas in the movies.
History and Role
[
]
After Rise of Sivagami
[
]
Amarendra Baahubali is the son of king Vikramadeva and Akhila (Shivagami's foster sister). Vikramadeva inherited the kingdom after Somadeva's time and died in battle. His wife died giving birth to Baahubali so he is raised by Sivagami alongside her own son Bhallaladeva. They train in academics and military to become noble princes, and Baahubali doesn't hesitate to lay down his life to serve his people and kingdom. He is a bold and compassionate individual and has proven to be a skilled warrior who can take multiple enemy soldiers by himself with improvised fighting style.
Battle of the Bold

[

]
Baahubali and Bhallaladeva are to participate in a form of the Tournament of Champions to prove themselves noble warriors. They are put up against foreign warriors and hike up snowy mountains in search of the nest. After fighting off thieves, Baahubali finds that they're being followed by some kind of spy. He realizes the spy is a woman. He and Bhalla bypass traps set by the other competitors as well as a pack of Blood Wolves. Baahubali manages to reach a bird sanctuary run by an elderly lady who saves them, and is told to make a choice of taking one of the few Ratnapakshi eggs left. The eggs hatch and Baahubali takes a piece of it, and he and Bhalla venture home.
The Lost Legends

[

]
Baahubali works to resolve conflict and defend the kingdom of Mahishmati.
The Legend Begins
[
]
A young Baahubali is seen racing with Bhalla while Sivagami performs the ritual at the Sacred Lake. He rushes in to save Sivagami from a crocodile and would have nearly died if Sivagami and Kattappa didn't save him. He explains that he cares enough about his family to sacrifice himself, even despite Sivagami's command. Years later he skillfully fights the Mahishmati guards to prepare them for King Yaduvanshi's visit.
Baahubali: The Beginning

[

]
Amarendra Baahubali's father, Vikramadeva was elected to be king, much to his elder brother, Bijjaladeva's disappiontment. Bijjaladeva thinks it's because of his disabilities. Vikramadeva dies, leaving the throne empty and his wife dies while giving birth to Amarendra. Bijjaladeva's wife Queen mother Sivagami, takes charge of running the kingdom with Kattappa's assistance until a new king is elected. Amarendra Baahubali and Bhallala Deva are brought up together, trained in all areas including arts, science, disguise, politics, and warfare, but both of them have different approaches towards kingship. Amarendra Baahubali is gracious to everyone but Bhallala Deva is violent and achieves his goals by any means possible.
It is revealed that Mahismathi is about to be attacked by an army of savages, called Kalakeyas. Queen Sivagami sees this as an opportunity to find out who among her two sons should be future king of Mahismati. Bijjala Deva, Bhalla Deva's father proposes that who eve kills the Kalakeya leader will be the future king and the chief minister agrees with him. Sivagami nevertheless, says that it is printhe ces' duty to protect and defend their country and orders that Mahismatis war resources be distributed fairly among her two sons. Bijjala Deva uses his guile to make sure Bhalladeva gets the maximum war resources.
The Kalakeyas are given an opportunity to change their minds and walk away with their lives. The Kalakeya king, Inokshi rejects their offer and insults Queen Sivagami. An enraged Sivagami says she wants the Kalakeya king brought to her alive so that she can feed him to the vultures. When it seems that Mahishmati would end up being defeated, Amarendra inspires his soldiers to fight back and they end up crushing the enemy. While Amarendra defeated the king of Kalakeya and was about to obey the words of Sivagami by chopping his limbs, Bhalla Deva swings his weapon from a distance and kills the Kalakeya king. Despite Bhalla Deva being the one to kill the Kalakeya king, Sivagami announces Amarendra Baahubali as the new emperor because of his courage and leadership exhibited in the war and also because of the fact that he shielded and protected his own countrymen throughout the war.
After the flashback, when asked about Amarendra's current whereabouts, a tearful Kattappa reveals that Amarendra is dead and that he is the one who killed Amarendra.
Baahubali 2: The Conclusion

[

]
Kattappa continues to narrate how he ended up killing Amarendra Baahubali.
After vanquishing the Kalakeyas, Amarendra Baahubali is declared as the future king of Mahishmati and Bhallaladeva declared as the commander-in-chief. Before the coronation, Rajamatha Sivagami begins to look for a bride for Amarendra. She instructs Amarendra and Kattappa to tour the kingdom to understand its current state and its people.
Amarendra falls in love with Devasena, a princess of the Kuntala kingdom (7.5 yojanas in the North from Mahishmati) and the sister of the king of Kuntala. Bhallaladeva learns of Amarendra's attempts to woo Devasena and hatches a plot to drive a wedge between Amarendra and Sivagami by asking for Devasena's hand in marriage for himself. Sivagami, unaware that Amarendra is in love with Devasena, promises Devasena's hand in marriage to Bhallaladeva.
Sivagami sends an emissary to the kingdom of Kuntala, who delivers the marriage proposal in a patronizing way. An insulted Devasena rejects the proposal with a scathing reply. Sivagami is enraged to hear Devasena's response and sends an order to Amarendra that Devasena is to be brought to Mahishmati Kingdom as a captive.
The kingdom of Kuntala is attacked by Pindaris, a dacoit-like army. Amarendra, with the help of Devasena's cousin, Kumara Varma, is able to nullify the attack and save Kuntala. Amarendra reveals who he is, promises Devasena that he will protect her honour no matter wha,t and convinces her to come with him to Mahismati as his future bride.
Upon reaching Mahismati, the misunderstanding comes to light. When Sivagami delivers an ultimatum to Amarendra that he must either chose the throne or Devasena, he chooses Devasena. Bhallaladeva is crowned king and Amarendra is made the new commander-in-chief. During the coronation ceremony, the citizens of Mahishmati clearly display their preference for Amarendra over Bhallaladeva.
At Devasena's baby shower, Bhallaladeva relieves Amarendra of his duties as commander-in-chief so that Amarendra can be with his wife. Devasena immediately speaks out against the King's manipulation and the mute inaction of Sivagami. Due to further clashes, Devasena and Amarendra are banished from the Palace. Amarendra and Devasena live happily among the people. Bhallaladeva notices that to the people, Amarendra is their king, and hatches a plot with his father Bijjaladeva to convince Sivagami that Amarendra is trying to assassinate him. Sivagami, convinced that Bhallaladeva's life is under threat and open action would result in factions and civil war, orders Kattappa to kill Amarendra. Kattappa, bound by his word to serve the Queen, lures Amarendra by feigning he is in trouble, and then stabs him in the back and kills him while fighting Kalakeyas. Before dying, Amarendra learns about Bhalla Deva's true intentions and tells Kattappa to take care of Sivagami.
Appearance
[
]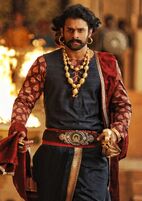 Amarendra was a tall, muscular man. He has the same medium, curly hair as his son. He had a beard and a moustache. He wore dhotis with a belt that had the Mahishmati symbol on it. He wore gold jewelry on his neck and he wore earrings. The Bindi on his forehead was a half-moon.
Personality
[
]
Amarendra is gracious and nice towards everyone including slaves. He is ingenious. He is reliable and humble towards everyone. He values loyalty and bravery towards everyone. Unlike Bhallala Deva, he values life and won't harm innocent people. Bijjala mentioned that he is too innocent to realize that Bhallala Deva is evil. He has been a poster boy of women empowerment and gender equality in the whole story. He without a single doubt supports Devasena in all situations. He is showed as the perfect gentleman, ardent lover, and ideal husband.
Abilities and Skills
[
]
Skills
[
]
Knowledge- Amarendra has demonstrated extensive skill and knowledge in combat, science, war strategy, and engineering. This has enabled him to take proper, improvised command on the battlefield and oversee the kingdom's issues. He engages in political conversation and sometimes philosophical thought when engaged in diplomatic and other such conflicting issues. He has also pondered the importance of nature and animal life as well as pure equality for residents of the kingdom.
Honor and nobility- As previously stated, Baahubali is noted for his compassion and he constantly tries to see the good in everyone. He has been raised learning the importance of duty and dispensing justice, and has earned heavy respect for his family and friends. Sometimes he lets this go, such as in the middle of a fight when he kills enemies indiscriminately and he has spoken against Sivagami on a few occassions. This has also allowed him to become vulnerable to Bhalla's treachery.
Abilities
[
]
Combat- Baahubali is one of the most experienced combatants in the franchise, more often he thinks with his sword and doesn't hesitate to eradicate an enemy when he's motivated. He utilizes strategy in battle and swift moves and fighting styles, and his strength to overwhelm the enemy. He has been seen capable of taking on several troops all by himself and has learned different fighting styles from different people, developing his skill over time. Even despite being injured and confronted by an army of Kalakeyas he still uses their own weapons against them and slaughters them
Strength- Baahubali is one of the characters in the franchise who has superhuman strength, possibly from natural training or since birth. He has most notably destroyed jugganut chariot gates, tossed a chariot, a ball on a rope, and lifted a tree up by a chain.
Relationships
[
]
Family

[

]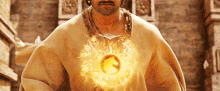 (Son)
Mahendra is his only son. Mahendra was born on the day he dies. Baahubali and Devasena gave Kattappa the honour of holding Mahendra first.
(Daughter-in-law)
Avanthika is Amarendra's daughter-in-law.
(Father)
Vikramadeva is Amarendra's father. He died when Amarendra's mother was 6 months pregnant.
akhila
[
]
(Mother)
[
]
Amarendra Baahubali's mother (Akhila) died while giving birth to him.
(Paternal Uncle)
Bijjaladeva is his paternal uncle. Bijjaladeva viewed as an enemy and wanted him to die. He valued Bhalla more than Baahu. He wanted him to become king and even suggested that Baahubali gets killed.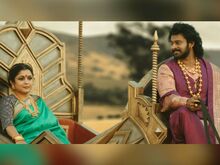 (Paternal aunt/Adoptive Mother)
Sivagami raised Amarendra like her own son with Bhallala Deva. Amarendra calls Sivagami mom and shows real affection towards her, unlike Bhallala Deva. It is noted that Sivagami wanted Baahubali to be king as he is nicer. It is seen that he spends more time with her than Bhallala Deva. Bhallala Deva drives a wedge between those two.
Sivagami makes Bhallala Deva king. Sivagami gets mad at Baahubali for choosing Devasena over the throne. Bhallala Deva makes Sivagami believe that Amarendra is trying to assassinate him and Sivagami orders Kattappa to kill him. Before dying, Amarendra learns about Bhalla Deva's true intentions and tells Kattappa to take care of Sivagami. Sivagami learns Bhallala Deva's treachery. Sivagami realizes that she killed Baahubali for no reason and falls at Devasena's feet.
(Paternal grandpa)
Somadeva is his paternal grandfather.
(Paternal grandma)
Hemavati is his paternal grandma.
(Cousin)
Bhallala Deva and Amarendra are cousins. Bhallaladeva hates Amarendra and views him as an enemy. Bhallaladeva shows fake affection towards him while Amarendra shows real affection towards him. Bhallaladeva tried to kill Amarendra couple of times but failed. Before dying, Amarendra learns the truth of Bhallaladeva. Bhallala Deva chops his corpse into pieces from his anger.
(Adopted Nephew)
Bhallaladeva adopted Bhadra. Since Bhalla is Amarendra Baahubali's cousin, he is his nephew.
Friends

[

]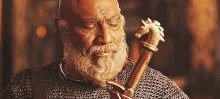 "I also want to desert you, my dear old man.'' -Amarendra Baahubali
Amarendra shows kindness toward Kattappa. Kattappa got Devasena and Amarendra together by playing along with Amarendra. They both will sacrifice their lives for each other.
He protected Kattappa when arrows were shooting at Kattappa and Amarendra got all the arrows shot at his back. He left his wife, who was in labour, to save Kattappa. When Kattappa stabbed him, Amarendra understood that he didn't want to kill him and he was following the king's orders. Kattappa said, "You may be dead but, you're still in our hearts."
Romance(s)

[

]
Yamagni
[
]
(Ex)
Before formally meeting Devasena, Baahubali was in a relationship with princess Yamagni of Rudragni. They talk about their kingdom's beliefs and their mutual desire for a compassionate society in their cities. The two take a liking to each other, which is met with disapproval from Yamagni's arrogant brother Varaah. Baahubali, despite his shock at seeing Yamagni attempt to hurt him becomes understanding and their friendship further grows, especially so after the Barbarian attacks on Yamagni's caravan and the tournament of champions. They decide to stay friends at best after Yamagni inherits the kingdom after overthrowing Varaah.
(Wife)
Baahubali first meets princess Devasena of Kuntala in Battle of the Bold, although not knowing her identiy as she was masked. She has appeared as a guardian of the bird sanctuary in the high mountains of Himvashi kingdom and a possible guide to visitors, or a hostile threat to anyone who means harm. She has demonstrated agility and warrior skill for which Baahubali takes admiration to, and the sanctuary's caretaker hints that there's more nobility to him when meets the eye.
In The Conclusion, Amarendra fell in love with Devasena when he saw her fighting the bandits. It's unknown how Devasena didn't recognize him but it's possible she didn't remember after all the years. Baahubali admires her fighting skill and pretends to be a simpleton to get closer to her, and is then forced to reveal his identity to fend of the Pindaris. During the battle he teaches Devasena to shoot three arrows from the bow and releases the Kuntala dam to repel the Pindaris. Devasena and Jaya Varma congratulate him but Baahubali recieies an abduction order from Sivagami.
An enraged Devasena hits Amarendra with fire and his protective shield comes out. Amarendra reveals that he is the crown prince of Mahishmati and Devasena falls in love with him. Thinking that Sivagami asked her hand of marriage for Amarendra, she felt guilty for rejecting him. Amarendra promises that he will protect her.
When the misunderstanding comes to light, Sivagami forces Amarendra to choose between the throne or Devasena. He chooses Devasena. At Devasena's baby shower, Bhallaladeva relieves Amarendra of his duties as commander-in-chief so that Amarendra can be with his wife. Devasena immediately speaks out against the King's manipulation and the mute inaction of Sivagami. Due to further clashes, Devasena and Amarendra are banished from the Palace. Amarendra and Devasena live happily among the people.
Devasena learns her husband's death with her baby, Mahendra in her hands. Sivagami falls at Devasena's feet for forgiveness.
Trivia
[
]
He uses the fake name Shivu to befriend Devasena, the same name Sanga would give to his son.
He uses the same sword wielded by Vikramadeva.
Baahubali is theorized to be an incarnation or avatar of Lord Shiva, evident by his natural strength and determined personality.
Baahubali has inspired characteristics of the Pandava brothers from the Mahabharata epic, including Yudhishtra's leadership in battle, Bhima's strength, and Arjuna's warrior skill.
He has little characteristics with the character he's named after.
Baahubali is one of the known characters in the franchise who have superhuman strength, the others being Kattappa,Bhallaladeva, Mahendra, Bijjaladeva, Pradhan Guru, and Dharmaraj.
Baahubali has taken a liking to animals on many occasions, however he has not hesitated to kill them if out of self -defense or if they pose a threat. Oddly enough he didn't seem to have a problem with attacking the boars in Kuntala.
Baahubali's birth mother is not revealed, however it may be possible that she is of lower class such as a villager. This is hinted by the references Bijjaladeva and Bhalla make to Baahubali being of lower heritage and a further reason for their hate to see him on the throne.